Women and their passion for shopping, especially for clothes and shoes is both well know and well supported by the designers all over the world. A lot of them adapt their outfits to match their personalities and do not take into account the ongoing trends. Others like to follow the news regarding designers' suggestions for a particular season, trying to keep their originality while wearing what is new and fresh in the market. What to wear, when, how and why, are questions the fashion business tries to answer for all the ladies out there, especially when the trends and their personal style go together hand in hand.
As women's shoes are concerned, nowadays fashion is generous with everybody, especially since designers understood that not all women are supermodels. And since spring is not far away, this year's collections seem to fit all tastes and styles. Mostly, the voices in women's shoe fashion announced that there will not be major changes since last year. Tall shoes, platforms, high heeled sandals, adorned and extravagant shoes that women loved last year will still make the fashion podiums and magazines in 2013 too.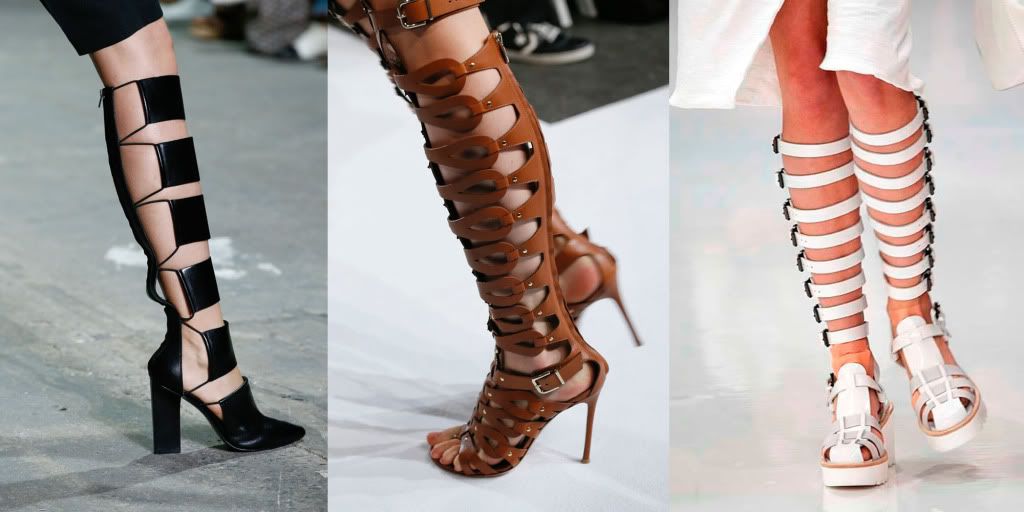 Trends in women's shoes – Models
Personality is the key word of the year, no matter if we talk about office sandals or casual boots. A great comeback is represented by the sharp shoes, with the pointy tip in different colors, or even metal. Feathers make some beautiful shoes accessories this spring, along with stones, crystals and sharp metal spikes. The good news also includes a spectacular comeback for golden or silver shoes and we are talking about street wear. These recommendations come from the new collections signed by Versace, Emporio Armani or Derek Lam.
Can we give up the stilettos? Apparently yes, because this year's trends have a soft spot for square, thick heels, in stripes or with geometrical drawings on them. Quite comfortable, easy to wear at work but also in special occasions. This trend comes from Chanel, Bottega Veneta and Balenciaga. We can also find this tendency in women's fashion as clothes are concerned. This spring, the key words are geometrical forms, stripes, checkers and so on, printed on anything, from blouses to trousers.
As colors go, this spring will literally blossom in the streets, since women's shoes will come in purple, lilac, lavender, burgundy. Black leather will never go out of fashion, but adorned with the right accessories, such as metallic spikes, it will set a trend once believed to be exclusively dedicated to rockers. This year, don't be afraid to wear metal bracelets, earrings, collars in order to gain a harmonious look along with the new shoes or old boots.